New figurines added - 06.09.2014
Over 250 new figurines have been added to the catalog.
Over 200 new figurines - 10.03.2013
We have added over 200 new figurines to our catalog. You can see them at the end of each category.
Welcome to our website. We wish you very pleasant minutes in our ceramic world.
About us
Keramik Center Ltd. has been established in the summer of 1998 as a manufacturing company of white ceramics. The one-man owner of the capital is Werner Marquardt from Germany. The firm is being managed by Reni Ignatova. Today there are 10 employees working in Keramik Center Ltd.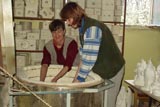 The first manufacturing workshop was in the village Tcherni Osam, which is located in the Trojan district. During the first 5 years of its existence, until the middle of 2003, Ceramic Centre strengthened its position on the Bulgarian market as a manufacturer of ceramics of high quality. In addition first steps had been made to export ceramic goods on the European market.
In 2003 the manufacturing workshop of the firm was moved to Trojan. Since then not only the manufacturing of ceramic figures has been expanded, but the firm has also started to sell to different handicraftsmen qualitative prime and raw materials, imported from Germany, for the pottery industry.
Production
Our firm manufactures mainly white ceramic figures. Since 2005 we have also started selling coloured figures, because of the great demand on the market. Here you can take a look on our gallery, which consists of figure compositions and coloured figures.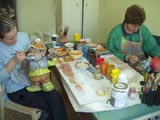 We work only on orders. Because of the wide range of figures it is impossible to manufacture also for a storehouse. Here you can look at our entire catalogue.
In 1998 we started with only about 200 figures. Today our catalogue comprises more than 1300 figures and it is getting wider and wider. In Bulgaria there is nowhere else such a wide range of ceramic figures to find.
We manufacture ceramic figures of different themes and for special occasions – for weddings, birthdays, Christmas, Easter, garden figures, human figures and all kinds of animals with sizes from 3cm to 1,20m.
As a result of the efforts of our competent workers and of the German materials and tools we have been using our firm sells ceramic figures of a very high quality. The German materials guarantee us a 100% compatibility with ceramic glazes and colours.
You can contact us on this page.
Trade
Our production has been exported to Austria, Germany, Spain, Greece and France.
Except for the production of ceramic figures our firm also imports and sells materials and tools for the pottery industry – clays, glazes, kilns, and ceramic tools.
Ceramic Centre Ltd. is the exclusive representative in Bulgaria for the products of the German firm Welte – high-quality glazes, engobes, and clays. For more information you can take a look here.
Our firm imports also clays of the German firm Witgert – molding clay, casting clay (in powder). Look here for more information.
Only in our firm you can buy temperature regulators for ceramic kilns of the German firm Hermes Electronic – major supplier of temperature regulators for NABERtherm (one of the biggest company in the world manufacturing kilns).
Notes:
Please activate JavaScript when using Microsoft Internet Explorer.
Optimized for and best viewed with Mozilla Firefox.